How much do you trust the Met Office?
At the Met Office we are always working hard to understand how the public uses and interacts with our forecasts.
It's really important that the public trust, listen and act on our warnings. With that in mind, the Met Office regularly commissions independently conducted surveys to measure public trust.
YouGov's Graham Milne explains "The Met Office tracker is a quarterly online survey that is asked of 2,000 YouGov panel members each time. The figures are weighted and representative of all GB adults (aged 18+).
For nationally representative samples, YouGov uses Active Sampling to draw a sub-sample of the panel that is representative of British adults in terms of age, gender, social class and type of newspaper (upmarket, mid-market, red-top, no newspaper). The emphasis is always on the quality of the sample, rather than the quantity of respondents. When using Active Sampling, restrictions are put in place to ensure that only the people contacted are allowed to participate - and can only complete the survey once."
The surveys take place 3 or 4 times a year and since July 2012, around 80% of people asked say they trust us a little or trust us a lot.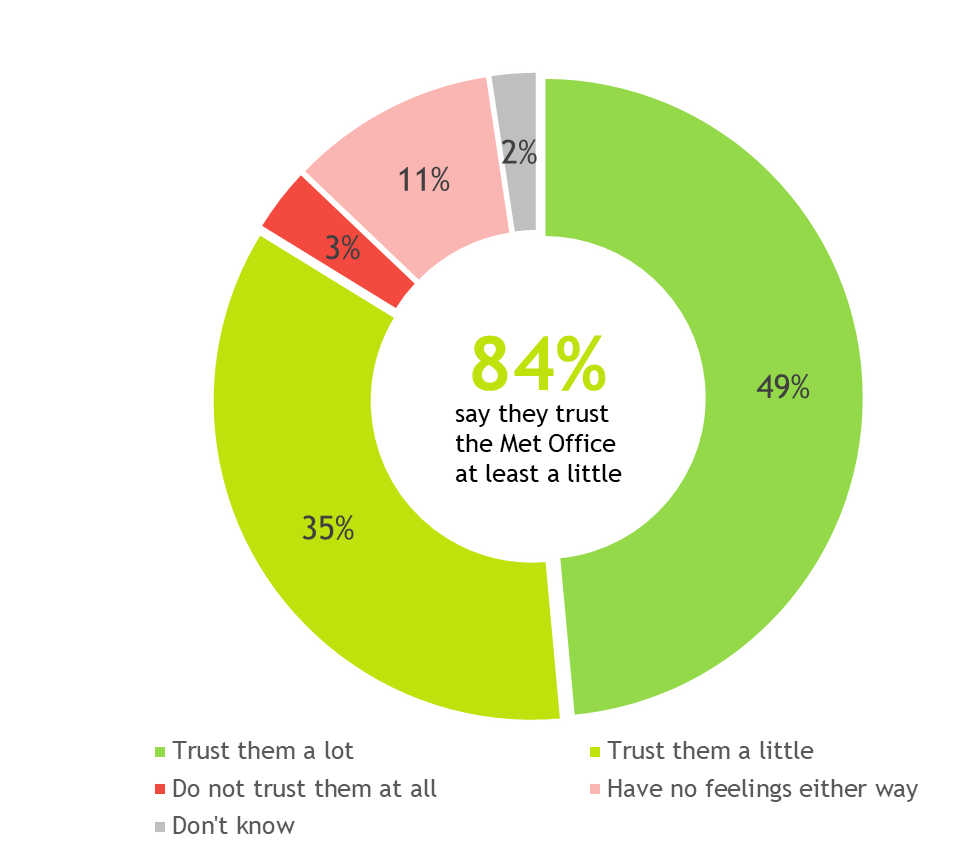 Over the last 12 months, those saying they trust us a lot has increased slightly to 49%. We wanted to know why this is and If you trust us a lot, you're likely to say it's because of our accuracy, up-to-date science and technology, and our expertise. On the other hand those that trust us a little might say it's because they are aware of the challenge we face with Britain's weather and don't expect us to be right every time. As ever we are working hard to improve our accuracy and you can see how accurate our public forecasts are.