Met Office weather app
The latest weather forecasts from the Met Office are available in the palm of your hand with our weather app.
The app is available to download from  


The Met Office weather app gives you world-leading weather forecasts direct from the Met Office experts. Know what the weather will do with the most accurate forecasts and local weather coverage from 1 hour to 7 days ahead.
Key features:
Quick switch between daily and hourly forecasts for your favourite locations
Interactive rainfall map and text forecast for the next 24 hours, or previous 6 hours (manual scroll or using play feature)
Real time UK National Severe Weather Warnings with the interactive warnings map for your UK saved locations 
Instant notification of the official UK National Severe Weather Warnings for your saved locations– including snow, strong winds, ice, fog & rain 
Watch the latest video weather forecasts
Dark mode available for compatible devices
Personal, accurate forecasts including:
Interactive UK rainfall radar map including both 24 hour forecast and 6 hour radar observations
Interactive UK National Severe Weather Warnings map
UK surface pressure map
Probability of precipitation (rain, sleet, snow, hail, and drizzle)
Actual temperature and 'feels like' temperature
Official Met Office National Severe Weather Warnings
UK national weather forecast video
Wind speed, direction and gusts
Sunrise and sunset times
Pollen and air pollution forecasts
Pollen push notifications (from March to September)
Local weather forecasts for unlimited locations
The ability to change your unit settings for temperature and wind speed
UV Index, visibility, humidity and pressure
Met Office weather app - winner of two awards in the World Meteorological Organization (WMO) International Weather App Awards 2020 for specialised app / weather warnings and for our public weather forecasts, including usefulness, reliability, quantity and quality of information.  Read about the awards.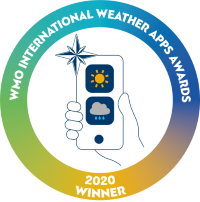 If you have any suggestions for our app we'd love to hear them, you can contact us here: [email protected]
The app is designed to work on iOS 12 and above and on Android 7.0 and above.
It is ad-supported but includes a £2.99 in-app purchase to remove all advertising.
Please be aware that if you have paid to remove advertising on the old Met Office app, you may be able to obtain a refund. Please see our FAQs for more information.
Support
If you have any questions or comments about the service, or you are experiencing any problems, please contact us.
Terms and conditions
The use of this service is subject to Met Office legal terms and conditions.