Our Journey to Net Zero by 2030
As a leading contributor to United Nations climate research the Met Office knows first-hand how greenhouse gas emissions are impacting our climate.
We will have completed our Net Zero journey when our net emissions of harmful greenhouse gases from our operational activities and supply chain have either been fully removed or completely offset. 
Our emissions are measured in tonnes of carbon dioxide (CO2), the most common greenhouse gas, or an equivalent (CO2e) amount of other greenhouse gases such as methane, nitrous oxide or hydrofluorocarbons. Our total CO2e emissions are often referred to as our carbon footprint.
Contents
Our starting point 
To understand our carbon emissions fully, a comprehensive baseline assessment was conducted of the Met Office CO2e emissions for the 2019/20 financial year. This provided a representative, pre-COVID, starting point.  
The baseline assessment divided emissions into four broad components: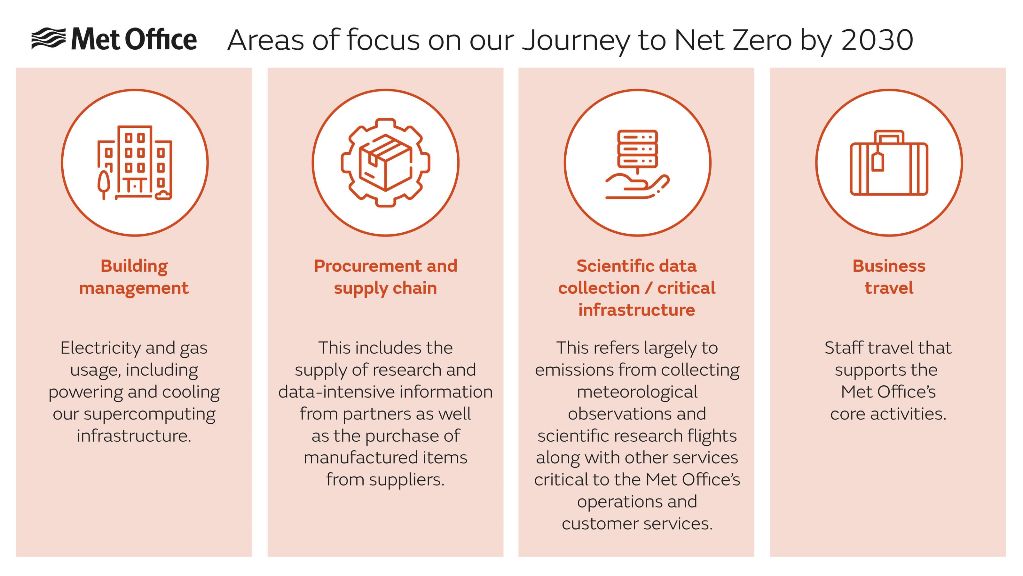 Existing successes 
As the Met Office starts its formal journey to Net Zero, significant achievements have already been made.
A number of measures have already been taken to improve our site's efficiency. This includes the installation of solar panels, the use of borehole water, recycling IT and improvements in waste management.  
In 2020, the electricity supply to the main operational locations was switched to 100% renewable electricity. As this included our current supercomputing capability located in Exeter, this has already resulted in a notable 50% reduction to the organisation's CO2e emissions.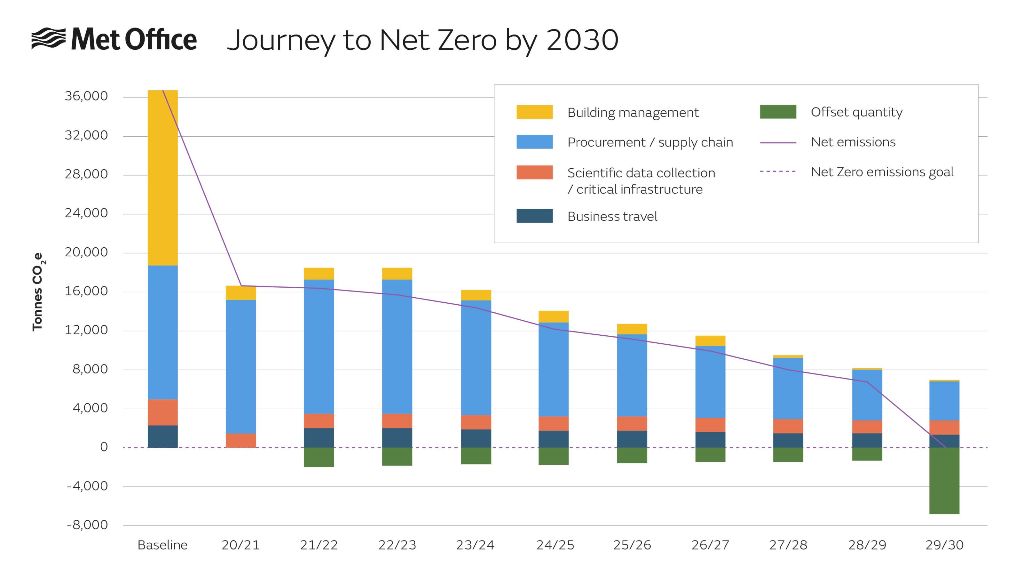 The pathway shown on the graph above will entail a reduction of 81% in the Met Office's baseline annual emissions, which were c. 37,000 tonnes of CO2e in FY2019/20. Certified offsetting will negate the residual c. 7,000 CO2e, or 19% of emissions, by 2030.
Support for other organisations 
Our substantial increase in supercomputing capability will lead to improvements in weather forecasts and climate change predictions. As the national deadline to reach Net Zero by 2050 looms, the new supercomputing capability will play a central role in understanding how carbon budgets and mitigation scenarios will avoid the most dangerous impacts of global climate change. 
The Met Office is already working with leading businesses and organisations to increase energy efficiency and improve resilience with the long-term goal of reducing carbon emissions. Detailed forecasts are being used to optimise energy usage, improve efficiency of renewable energy sources and even reduce the carbon footprint of air travel, thanks to detailed wind forecasting helping to plan flight paths.  
The Met Office is also a partner organisation of Goal 13 Impact Platform, which is led by Deloitte, and brings together businesses to share learnings around adapting to climate change and reducing carbon emissions. 
Next steps 
In order to achieve our ambitious target of Net Zero carbon emissions by 2030, we will work closely with our staff, partners, customers, supply chain and stakeholders in government and the wider meteorological community. Together we can make real changes and adapt the way we work while still providing safety critical meteorological services and world-renowned climate science. A dedicated Net Zero strategic action and project team will be in place until March 2022, when our Net Zero approach will be embedded into everything we do as a business and part of our business as usual way of working.  
Over the next year, as future ways of working become established in the wake of the COVID-19 pandemic, we will review the impact of travel to work and working from home practices to ensure the journey to Net Zero continues to address our overall carbon footprint.  
The Met Office journey to Net Zero emissions by 2030 will continue to be re-evaluated and adapted over the course of the 2020s as more technologies become available, with detailed action plans put in place for each step of our journey.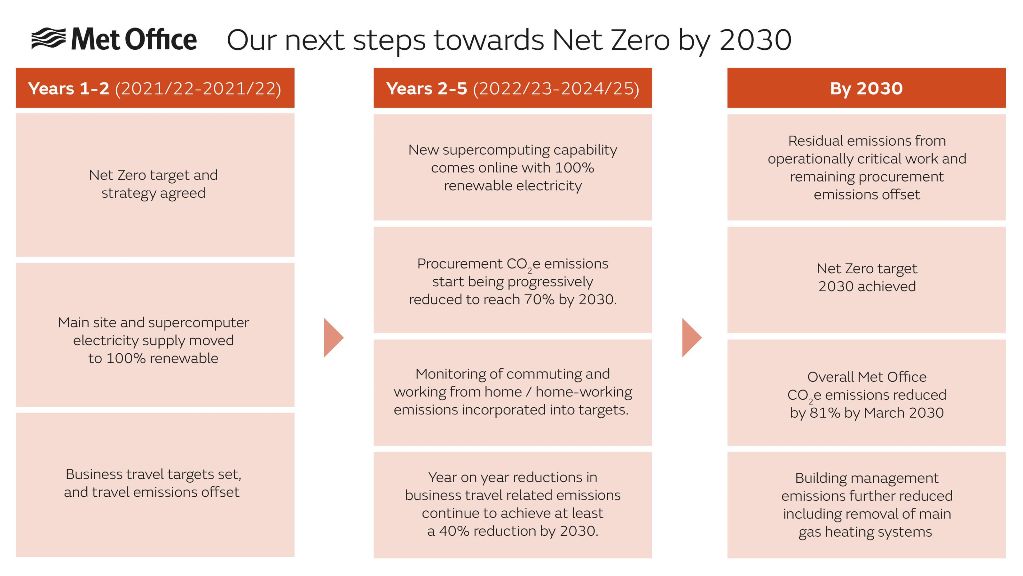 Met Office journey to Net Zero by 2030 report
For full details on our Net Zero journey please read the full report here.