Construction - meteorological solutions
Our world-class meteorological expertise can help you plan your construction projects more efficiently, improve operational safety and reduce downtime.
Stay ahead of the weather at every stage of your construction project
Changeable weather conditions affect construction projects, from costly delays to health and safety risks.
We aim to reduce the impact of weather events and support building projects from the project planning stage, throughout project delivery and project analysis.
The increase in extreme weather events observed in the recent years has led to a rise in contract claims. More than ever, contractors and developers need to anticipate the impact of day-to-day weather and climate change on their operations.
"It is vitally important – not least to the health and safety of our construction personnel – that we have dependable, accurate and site-specific forecasts with which to plan our work."
Ken Clarke, Marine Liaison Officer - Forth Road Bridge Constructors
Watch how our leading science helps the construction industry with project planning, operations and contractual analysis.
Our new catalogue offers practical guidance on how to choose the right products for each phase of your project.
Our product portfolio explained - How weather data is used for construction sites.
Why choose the Met Office for your construction project?
Sector-specific solutions for every stage of construction projects
World-leading research to understand the impact of climate change
Over 40 years' experience in the Building and Construction sector
UK leader in providing meteorological data for contract management
Location specific forecasts and alerts 24/7 support, 365 days a year
Our solutions for Building and Construction at a glance:
This is an extremely useful report if you are looking to make an extension of time claim because the weather negatively affected your project. It is suitable for guiding a range of construction contracts such as NEC and JCT.  Learn more.
Location-based Planning Average Report
This report helps you decide realistic deadlines for a project when negotiating your NEC or JCT contract prior to build. It makes it easier to identify months and days when the weather may negatively affect your project.
The report includes up to 11 weather parameters with wind as standard. The data is generated from one of our 3,600 locations across the UK, as displayed in the map below.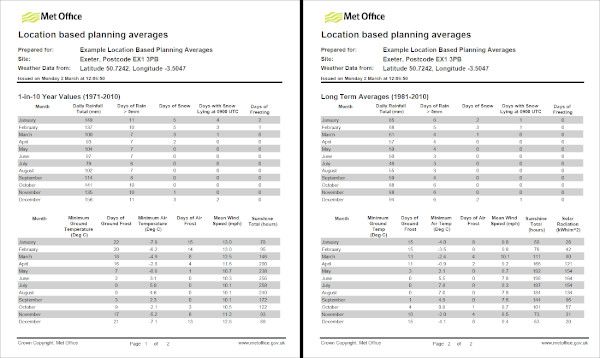 Map of weather stations and location sites in the UK for Downtime Summary reports
Use this interactive map to help you find the nearest weather station and location to your site. Zoom in and click on the blue or red dot closest to your desired location to view the longitude and latitude coordinates.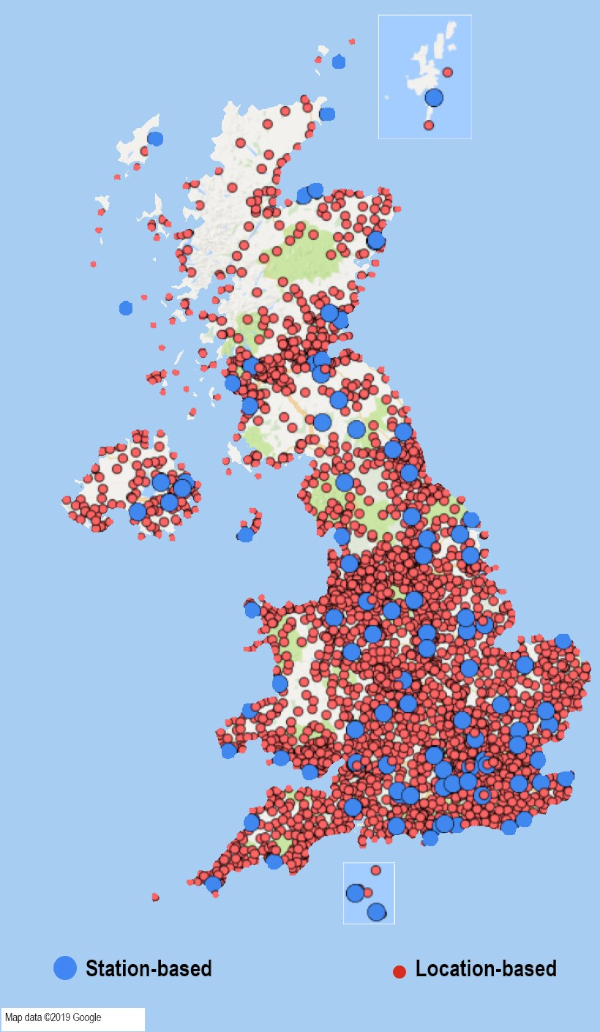 VisualEyes™, the intelligent operational decision-making tool
VisualEyes™ is an easy-to-use, web-based weather alert system designed to help construction managers and contractors manage their project's health and safety risks and reduce downtime. It displays weather layers for multiple sites and provides probabilistic charts and bespoke alerts.
Additional services
Talk To A Forecaster – Speak to an expert meteorologist 24/7, 365 days a year to receive a personalised forecast for any site in the UK, up to five days ahead.
Soil moisture data – The Rainfall and Evapo-transpiration Calculation System (MORECS) calculates soil moisture conditions. Among any of its uses, it helps pinpoint the best times for heavy plant operations in rural environments.
Wind rose report – A graphical illustration of the annual, seasonal or monthly wind patterns for a given location. Engineers and developers use the report when evaluating the suitability of a site in relation to wind direction, wind speed, and wind gusts.
Rainfall analysis report – The analysis shows the rainfall amount or intensity versus duration and frequency. Developers use this report to assess the suitability of a site in relation to flooding, looking at historical rainfall. We produce HM33 (flood studies report) and ITED reports based on the methodology of the Flood Estimation Handbook.
Mean Frost Index – This index measures the severity and duration of a cold spell in an area. Civil engineers need it to know at which depth they can use non-frost susceptible materials for road dressing.
Partnering with the Chartered Institute of Building Service Engineers (CIBSE)
We have teamed up with the Chartered Institute of Building Service Engineers (CIBSE) and created specialist data packages to facilitate compliance with UK Building Regulations. The datasets focus on the specific requirements for sustainability and energy efficiency when designing a building or undertaking a major refurbishment.
Find out more about our Design Summer Year and Test Reference Year datasets.