Pollen research to offer hope to hay fever sufferers
The 2018 pollen season was the most severe for more than a decade and the weather is to blame, but could new research offer hope to the 18 million hay fever sufferers in the UK?
Following the Siberian winds of March 2018, the rapid switch to warm sunshine during spring will have been a welcome change for much of the British Isles. That is, until the onset of sneezing, itchy eyes and scratchy throat for the many millions of hay fever sufferers in the UK. This year has been particularly severe. We've seen the highest levels of pollen for more than decade - and it's the topsy-turvy spring weather that is to blame.
Why was 2018 so severe for pollen?
Climatologists consider 1 March as the start of the meteorological spring but the natural world follows its own calendar, which varies significantly year-to-year. 2018's cold and wet March led to a delay in the start of the phenological spring, that moment following winter when an abundance of life returns to the natural world.
When spring finally sprang, all of nature appeared to blossom at once. Instead of a gradual onset to the pollen season, there was an explosion. By the end of spring, the sunniest May on record as well as consistently warm temperatures helped release huge amounts of grass pollen into the air we inhale.
Observing high levels of pollen
Unusually high levels of pollen were observed across the UK's pollen count monitoring network in 2018.  Owned and managed by the Met Office, each pollen station uses a 'Burkard trap' to extract pollen grains from the atmosphere by collecting them on a piece of sticky tape surrounding a rotating drum. Individual pollen grains are then identified and counted, using a microscope, by an expert observer.
What types of pollen are there?
The specific types of pollen grains spotted under the microscope varies significantly throughout the year. Whilst the grass pollen season typically runs from late May until July, the tree pollen season begins in the middle of March and can last until the middle of May. Halfway through the summer, various nettles, weeds and fungal spores start to blossom.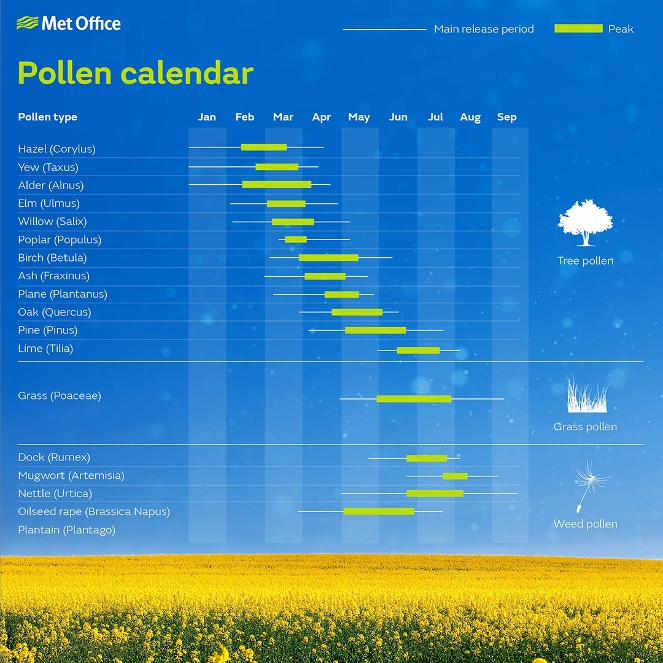 How does the weather affect pollen levels?
Alongside the seasonal peaks and troughs, the weather plays an important role in varying levels day-to-day. Optimum weather for the release of grass pollen is warm sunshine with enough of a breeze to carry the pollen grains. Wet weather will temporarily supress pollen release but occasional bursts of rain are necessary to prevent exhaustion of the supply.
Since pollen peaks during the morning, shortly after its release, the timing of any rainfall is crucial. A wet morning will help keep levels low all day, whilst an afternoon shower may cause less of an impact.
This knowledge allows for the combination of weather data from the Met Office with expertise from the National Pollen and Aerobiological Unit and Pollen UK to produce pollen forecasts for 5 days ahead – from low to very high – for every part of the country.
High pollen levels are observed when there are 50 to 150 grass pollen grains in each cubic metre of air but not everyone has the same tolerances. Whilst many start sneezing only when pollen levels are high, others are sensitive even when levels are low.
Which type of pollen that affects you?
Of the 18 million British people allergic to pollen, 20% are sensitive to tree pollen. Grass pollen is the most common cause of allergies, affecting 95% of hay fever sufferers with much fewer people affected by weed and other pollen species.
Knowing which type of pollen you are allergic to may help you manage your symptoms at different times of year, but it gets even more complicated. There are around 150 different species of grass in the UK that cause hay fever, with different people affected by different grass species.
Research into species of grass pollen
A dedicated research programme, now nearly complete, aims to identify the most significant of the 150 different species of grass pollen in the UK by using DNA sequencing and the UK plant database.  Called PollerGEN the research involves the expertise of partners from Bangor University, Aberystwyth University, University of Exeter, University of Worcester, University of Sydney and the Met Office.
These findings could be very important if you suffer from allergic rhinitis. For instance, you may know you are allergic to grass pollen, as opposed to tree pollen. But do you know which type of grass pollen you are allergic to? This information could lead to detailed and local warnings, including which pollen is affecting which area and in what concentrations.
How can research into pollen be used further?
Planners, developers and councils could go even further and use this insight to change our local environments. By replacing those grass species that cause most allergies in our sports fields, parks and neighbourhoods, fewer people may be affected.
A radical change, perhaps. But, if one day it helps relieve the symptoms of millions of hay fever sufferers it's a change not to be sneezed at.
Related pages
Download the Met Office Weather App to keep up to date with pollen levels