Met Office military meteorologist awarded MBE
Author: Press Office
07:00 (UTC+1) on Sat 12 Jun 2021
Squadron Leader Ken Horn has been awarded an MBE for his services to operational meteorology.
Deploying on 80 operational tours, Squadron Leader Horn MBE has provided critical meteorological services around the world in support of UK Defence operations and exercises.
After first joining the Met Office in 1975 as an Assistant Scientific Officer, observing the weather and compiling climate statistics, Ken trained as a meteorologist where he first worked as a civilian at RAF stations in the UK before moving into the Mobile Met Unit (MMU). After commissioning in 1990, Ken deployed to the first Gulf War only 4 days after completion of his training. Since then he has voluntarily deployed for more than 3,200 days, to over 18 countries.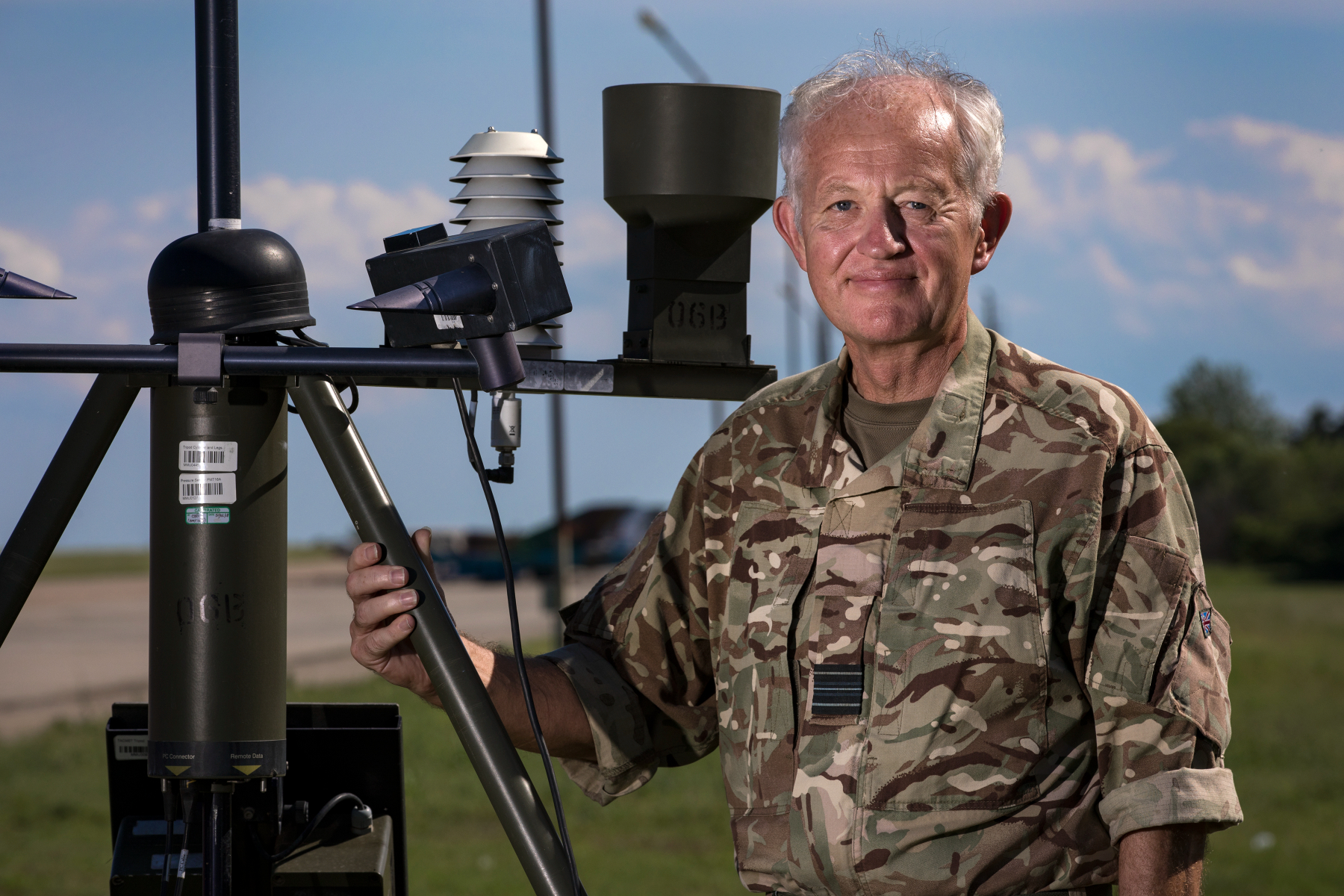 Squadron Leader Horn operates within the Mobile Met Unit (MMU). The MMU is a Sponsored Reserve Unit of the Royal Air Force consisting of trained meteorologists and engineers. It is an Air Combat Service Support Unit (ACSSU) and can be actively deployed in times of war, crisis, peace-keeping operations and exercises in the UK or overseas. Members of the MMU have been deployed in support of operations continually since 1982.
On being recognised with an MBE, Squadron Leader Horn MBE, said: "I am honoured and very humbled to receive this prestigious award. Never in my wildest dreams when I joined the Met Office nearly 46 years ago with my 5 'O' levels did I expect anything like this.
"An individual does not receive this award, it is the team behind them. All of the people I have worked with in the Met Office and Military, with the support they provide, have made this MBE happen. Most importantly, the family team for those left behind to allow you to go out and perform to your best abilities.
"I have been to many hostile places in the world both politically and environmentally but my word to any one with me is 'time looking at the clouds is time never wasted!' MBE, a great honour and thank you."
As well as his important work delivering countless meteorological briefings to armed forces personnel, the citation for Squadron Leader Horn's MBE recognises his important role in mentoring new members of staff using his vast operational experience and calming influence.
Speaking on the recognition of Squadron Leader Horn, Met Office Chief Executive Penny Endersby, said: "I'm delighted that Ken has been recognised for his dedication to operational meteorology over so many years. As well as delivering critical meteorological briefings on so many deployments, Ken has used his expert knowledge and leadership to inspire the future generations of military meteorologists.
"I'm incredibly proud of all the Met Office staff who train and volunteer for military deployments, often to austere parts of the world, and Ken has been at the forefront of the MMU team."
Working within the MMU can be a hugely challenging and rewarding role, with regular deployments on overseas operations and exercises. You can read more about what it's like to work in the MMU in our blog post which looks into a day in the life of an MMU Meteorologist.