Catherine Bremner appointed to the Met Office Board
Author: Press Office
12:00 (UTC+1) on Wed 31 May 2023
The Met Office's newly appointed Non-Executive Director, Catherine Bremner, is a highly respected leader within sustainable development and green finance across both public and private sectors.
Catherine Bremner, Chief Strategy & Operations Officer at Impax Asset Management, has been appointed as a Non-Executive Director to the Board of the Met Office. Catherine will be taking over as Chair of the Remuneration Committee from Catherine Quinn, who joined the Board in 2017 and will be stepping down in June as her term comes to an end.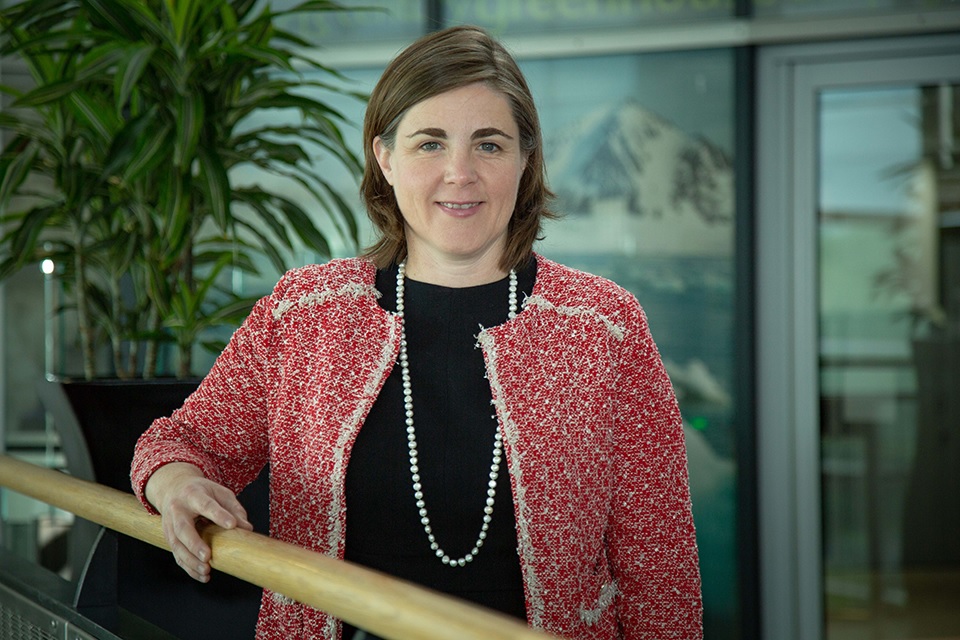 The Non-Executive Directors support and challenge the Executive Directors of the Met Office in setting the organisation's strategic objectives and delivering against agreed Key Performance Indicators. The Non-Executive Directors are encouraged to assist in raising external awareness of the Met Office and its work, and to build beneficial external relationships. Catherine Bremner brings a wide range of skills and experience. Her high-level experience in sustainable development and climate and energy policy coupled with her strategic leadership experience in organisational development and change management will add further depth and diversity to input to the Board.
This appointment has been made in accordance with the Governance Code on Public Appointments. The Met Office is a Trading Fund of the Department for Science, Innovation and Technology (DSIT).
Commenting on the appointment, Rob Woodward, Non-Executive Chair of the Met Office said: "I am delighted to welcome Catherine Bremner to the Met Office Board following an extremely competitive selection process with an impressive field of candidates. Catherine brings a deep knowledge of public sector policy as well as the work of the private sector in tackling climate challenges, ensuring the Board will continue to support the Met Office as they take on the challenges ahead. I would also like to take the opportunity to thank Catherine Quinn for her significant contribution to the Met Office over the last six years."
Prof. Penny Endersby, Chief Executive Officer, welcomed the appointment, noting: "I am very much looking forward to working with Catherine. Her experience of formulating climate policy informed by scientific research programmes and working to develop sustainable finance and business solutions will help us understand the needs of government, our partners and customers. Her practical leadership and operating experience in high profile organisations will help ensure we support and equip our staff to continue to focus on delivering real and meaningful impacts that help people stay safe and thrive."
Biography
Catherine is Chief Strategy & Operations Officer at Impax Asset Management. She is responsible for overseeing the firm's risk and compliance functions, IT, and operations, as well as strategic projects working with the CEO. Catherine is a highly respected leader within green finance, with over 25 years of experience in sustainable development, finance, strategy and change management.
Catherine previously served as Director, International Energy and Climate Finance, in the UK Government's Department for Business, Energy & Industrial Strategy (BEIS), managing a team of 200+ staff globally. Catherine chaired the UK climate and energy G7 Presidency in 2022; the first G7 to agree to Net Zero commitments. Catherine joined BEIS in 2016 as Head of Climate Science and co-sponsor for the Met Office Hadley Centre climate science programme. Catherine was previously Vice-Chair of the International Energy Agency and was a Trustee of the Ellen MacArthur Cancer Trust. Before that Catherine worked as Global Head of Environmental Sustainability at ANZ bank and Chief Operating Officer at Low Carbon Australia. She spent her early career with McKinsey.