Research and Innovation Strategy
The Met Office Research and Innovation Strategy sets out our aims for the next 10 years across science, technology and operations
As our ability to better understand and predict future weather and climate develops, so too do the expectations of our customers and stakeholders. These evolving demands, together with the opportunities provided by new technology, provide the drivers for this Research and Innovation Strategy.
Weather and Climate Science and Services in our changing world
Predicting our weather and climate, and their impacts has become one of the most important areas of scientific and technical endeavour. We have seen significant advances in forecasting skill. But there is a constant need for improvement as society drives for greater efficiency and resilience. There is also now an increased and urgent need to understand our rapidly changing climate and the effect this will have on each and every one of us. The Met Office therefore exists to help you make better decisions to stay safe and thrive.
High-impact weather
As citizens, we expect safe housing and resilient provision of food, water and energy, and we increasingly rely on efficient transport systems and global telecommunications. All are vulnerable to high-impact weather: communities can be devastated by flooding, heavy rainfall and strong winds, crops can be damaged by intense rainfall or drought, aircraft can be grounded by thick fog, and, beyond conventional weather, critical infrastructure can be sensitive to space weather. Damage can often be reduced by providing earlier warnings, requiring longer-range forecasts of the high-impact events. Increasingly, probability-based forecasts allow risks to be progressively managed in the period leading up to a significant weather event. Furthermore, there is a demand to not just predict the weather, but also the impacts of that weather. There is a growing need for impact-based forecasts.
In addition to forecasting weather hazards, there is also an increased demand for personalised forecasts as the growth of global connectivity and smart technology allows more people to access and use forecasts in their day-to-day lives. This demand is driving a requirement for ever more accurate, localised weather forecasts. These new smart devices also provide opportunities for a massive increase in measurements of the weather to inform forecasts, which could help personalise and localise forecasts.
When a vulnerable community is affected by high-impact weather the emergency response teams require accurate assessment of the current weather conditions and how they may change in the near future. This situational awareness needs to be rapidly updated during the emergency and then continually updated through the course of the recovery, which can last for weeks, months or even years.
Finally, we need to make our communities and infrastructure more resilient to high impact weather. To do so requires assessment of worst-case scenarios: how bad could it be? The wet winter of 2013/14 brought widespread flooding to the UK. Is this the wettest winter season that we should expect in a present-day climate? The risks from compound events could be even greater. For example, the weather systems that bring heavy rain during winter, which can cause flooding, often also contain gale-force winds, which can lead to coastal storm surges; or the passage of one high-impact event can heighten the vulnerability of communities and infrastructure to a subsequent event.
To meet these needs requires substantial scientific development and technical innovation. Weather forecasts need to become more accurate and the lead-time needs to be longer. Increasingly we need impact-based forecasts for an increasing range of impacts. We require the ability to provide situational awareness during a rapidly evolving emergency. We also need assessments of worst-case scenarios of high-impact weather events, including the possibility of compound events, when multiple weather events and other emergencies strike in a short time period.
Changing climate, changing hazards
The climate is changing. Global mean temperatures have risen by more than 1oC since pre-industrial times, sea levels have risen, and ice sheets and glaciers are retreating.  The observed magnitude and pattern of these changes means that there is very strong scientific evidence that these climate changes are due to the increased levels of greenhouse gases in the atmosphere.
The 2015 Paris Agreement set out a global commitment to keep warming below 1.5°C and the UK has set a target to reach net zero emissions by 2050. To meet these commitments requires a scientifically robust understanding and management of national and global carbon budgets to provide pathways to stabilise the climate at a safe level. It also requires monitoring the climate to chart progress towards the ambitious targets, and to check for unexpected changes, tipping points and potentially irreversible changes to our environment.
As the climate changes so too do the high-impact weather events we need to prepare for. When combined with a growing population, living increasingly in mega-cities, our exposure to the impacts of weather hazards is changing, and in many cases increasing. Therefore, there is a need to assess how the impact of extreme weather events will shift within our changing climate. This assessment needs to have a global view: modern economies are dependent on complex global supply chains that mean that high-impact weather events have complex implications across the world; some studies point to the risks of conflict driven by pressures on resources from climate change. Furthermore, many developing countries are particularly vulnerable to weather and climate hazards and resilience could be increased through partnerships to enhance capability and effectiveness.
These are significant scientific and technical challenges that will require better climate science, better climate models and better ways to communicate and enable decision making. But, crucially, they also require a new multidisciplinary approach. For example, combining climate scientists and operational meteorologists, with engineers, economists and behavioural scientists to integrate climate information and knowledge with other sources of information to build solutions. This will require new networks and partnerships that extend beyond the Met Office's traditional relationships.
National Security and Emergency Response
UK Security and Defence activities are dependent upon accurate weather forecasts to ensure the safety and security of personnel and equipment. These are provided by the Met Office through a suite of data feeds, tactical decision aids and by specialised operational meteorologists. Environmental conditions have an impact on many levels of military operations, ranging from real-time decision making to the implications of climate change for future platforms. The UK has invested in technology and infrastructure to provide a strategic advantage, much of which is weather sensitive. Accurate weather forecasts for key global locations, alongside reliable advice and guidance, are vital to enable its exploitation. Increased precision at global and regional scales of the impacts of climate change will help inform UK defence strategy for safer and more effective military operations around the globe now and into the future.
Alongside Security and Defence, the UK National Risk Register identifies a broad range of high impact risks to the UK, ranging from flu epidemics, through flooding, to threats from cyber security. Of the 20 risks currently identified, 12 are either directly related to, or have a strong dependence on weather and climate. These risks encompass periods of exceptionally hot or cold weather, and periods of exceptionally wet or dry weather. They also encompass the transport and dispersion of harmful chemicals or pollutants into the atmosphere or water systems, and the threats to infrastructure from space weather events.
And so the Met Office has a national responsibility to assess the likelihood of these threats, and how they change in the changing climate, and to provide an operational response in the event of an emergency. New science and innovation is needed to ensure we identify and respond to these and new risks, and to ensure the efficiency and robustness of the emergency response capabilities.
Clean growth and innovation
Within the context of a changing climate, growing technological advances and a changing social consciousness, there is an increasing focus on clean growth, as reflected in the UK Industrial Strategy. This revolution will require a raft of new environmental prediction services.
Increasingly, new industrial and societal processes are designed, monitored and optimised using digital twins: a digital model of the process as a system. Environmental factors often play a role. For example, high-impact weather is a factor in the reliability of supply chains and cold or hot weather is a factor in the demand for heating and cooling in energy systems design. The challenge of a move to net zero carbon emissions will require systems modelling of this nature, in addition to an understanding of the natural carbon budget. Integration of weather and climate data and modelling into these digital twins will require innovative technological and scientific thinking.
The drive to net zero carbon emissions is resulting in new innovations in renewable energy and transport systems. This new infrastructure will be heavily reliant on weather conditions for operations. For example, wind and wave power rely directly on the weather to generate power. And connected autonomous vehicles, such as driverless cars, rely on weather-sensitive sensors and communications networks; they also need to respond to different driving conditions, brought on, for example, by fog or heavy rain. There is a growing need for new types of observations and forecasts to ensure the efficiency of new infrastructure.
Poor air quality is known to affect human health. In the UK there is a drive to develop technology and policy to improve air quality, particularly in cities. Worldwide, rapidly developing economies have sometimes come at the price of very poor air quality. As the UK's national meteorological service, the Met Office has a responsibility to enable scientific analysis across the whole chain, from pollutant emission through to airborne dispersion, exposure and health impacts.
Internationally, the clean growth agenda is being promoted through the Sustainable Development Goals, and the UK has a vital role to play in delivering these targets. Clean energy, resilient infrastructure, food security and climate mitigation are all key aspects of the Sustainable Development Goals and are all heavily linked to weather and climate. The Met Office will be able to support this agenda by building capacity overseas through training, infrastructure, communications and emergency assistance.
The revolution of clean growth therefore presents a need for new services from the weather and climate community. These new services will require scientific development and technical innovation, and, of course, multi-disciplinary teams to deliver services.
New technology, new science
Technological advances are providing huge opportunities for innovation in weather and climate science and services. Artificial intelligence and machine learning are expected to revolutionise the way the world operates. When paired with next-generation supercomputer capabilities and exploitation of public cloud technologies we will be able to push the limits of weather and climate prediction more than ever before, combining the disciplines of simulation and emulation to increase the efficiency and accuracy of weather and climate prediction. Furthermore, data analytics provides huge opportunities to add value to weather and climate data to produce new services. But at the same time, these new technologies will produce data at such huge volumes that we shall need radical new ways of moving data, post processing model output, and serving the data services to users.
Taking advantage of these new capabilities will require new skills, new technology, new science and modelling techniques and new partnerships. There will also be an increased requirement for multi-disciplinary approaches to address the challenges laid out above as weather and climate science and operations interact with social science, data science, engineering and technology. Again, this will increasingly mean the Met Office's in-house specialist expertise and pioneering partnerships will be of utmost importance if we are to deliver on the goals of this Strategy, support the Met Office's capabilities and be prepared for the future.
Our Vision
The Met Office Strategy sets out our vision to be recognised as global leaders in weather and climate science and services. To achieve this, we cannot stand still, we shall need to continually extend our science and services through research and innovation. Our approach is to build on the unique breadth of the science, operations and technology within the Met Office: seamless from weather forecasts right through to climate change, from global prediction to forecasts for individuals, and from deep scientific research and technical innovation to operational services.
Such ambitious goals require research and innovation in three core activities: 
1. Science to Services – the way we develop and use scientific knowledge and services to inform risk-based decision making
2. Pioneering Research – the fundamental research we do to extend the frontiers of weather and climate knowledge
3. National Capability – the people, partnerships and infrastructure that enables the weather and climate community to meet UK and global strategic needs
Development of new and improved services is the reason we have research and innovation within the Met Office. But new and improved services require pioneering research. And the Met Office has a responsibility to nurture and develop national capability for weather and climate science and services, which then enables the broader UK and international community.
Research and Innovation Themes
Across these three core activities we have designed nine Research and Innovation Themes to respond to our top customer and stakeholder-driven research priorities. Some continue to build on areas of internationally-recognised excellence, such as building on our seamless science approach to environmental prediction and pushing observations and modelling towards higher resolution to better represent high-impact weather hazards. Others respond to changes in technology, such as preparing our whole modelling systems for the next generation of supercomputers. Others are new areas. For example, developing the new generation of impact-based weather and climate services will require a translation of the weather hazards into risks and impacts, so that informed decisions can be made. New innovative data processing and platforms will be required to make this possible. And the broad range of new techniques in data sciences offers exciting new opportunities when harnessed with our simulation tools.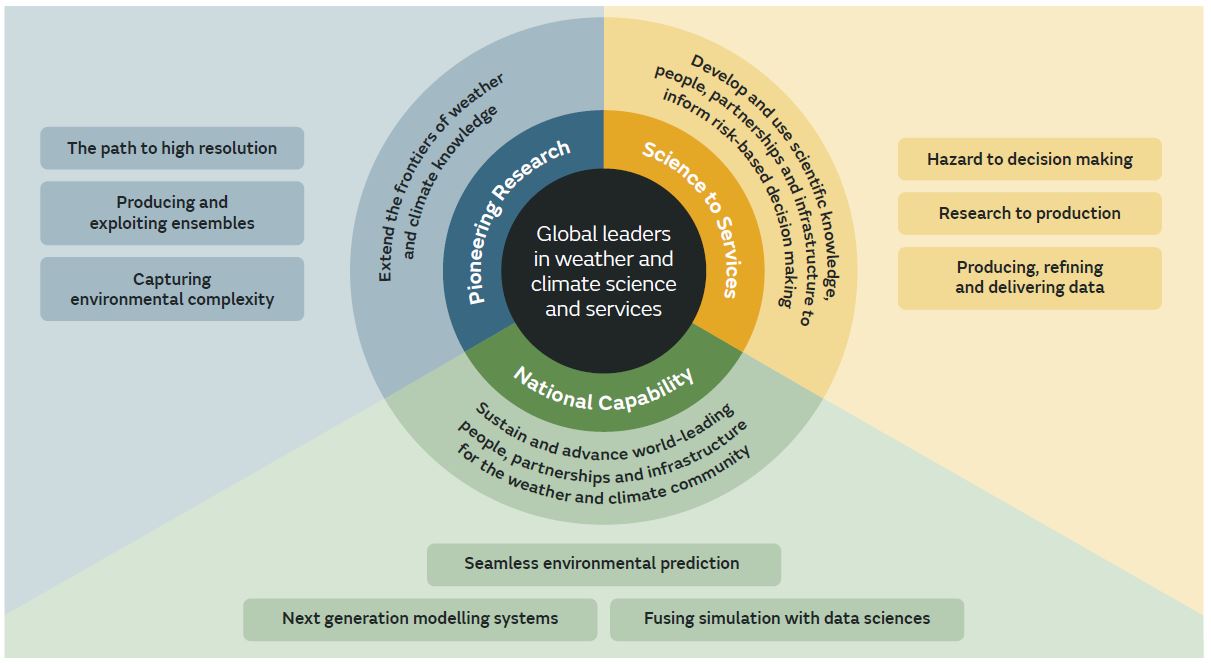 These nine research and innovation themes are:
Science to Services
1. Hazard to decision making - Expand and improve our services for stakeholders' risk-based decision-making by working with users, social scientists, behavioural scientists, financial impact experts and engineers to gain an increased understanding of the impacts of hazards and to develop better impact-based services.
2. Research to Production - Pull through developments in weather and climate research to improve our forecast systems, tailored to services in the forecasting timescales of primary interest to the Met Office and its customers.
3. Producing, Refining and Delivering Data - Develop the Met Office supercomputing estate for operations and research, establish the technology and science needed to move, store and process our data, and design a flexible post-processing framework to turn predictions and observations into customer products.
Pioneering Research
4. The path to high resolution - In order to better predict hazards and extremes, develop the next generation of very high resolution global and regional environmental prediction systems, based on global convection-permitting atmosphere models coupled to eddy-resolving ocean models and eddy-permitting regional atmosphere models coupled to estuary-resolving shelf-seas models.
5. Producing and exploiting ensembles - In order to include forecasts of uncertainty at the heart of our endeavour, develop ensemble-based systems and exploit them for prediction across timescales, while developing new and novel uses of ensemble information for improved understanding of weather and climate.
6. Capturing environmental complexity - In order to pioneer new and improved impact-based forecast services and advice on global climate change mitigation, extend our environmental prediction capability with a focus on cities, air quality, the water cycle, and carbon and nitrogen cycles.
National Capability
7. Seamless Environmental Prediction - Further develop our world-leading seamless environmental prediction capability, whereby a single model family is used in conjunction with observations and theory, to quantify weather hazards in the past, in present day climate and into the future across weather and climate timescales.
8. Next generation modelling systems - Revolutionise the Met Office's complete weather and climate research and operational simulation systems so that the Met Office and its partners are ready to fully exploit future generations of supercomputer.
9. Fusing simulation with data sciences - Use new and evolving data science methods such as artificial intelligence and machine learning and advanced data assimilation in order to remain at the cutting edge of weather and climate prediction and impact-based services.
Cross Cutting Themes
The ambition and vision within this strategy can only be realised with three cross-cutting themes which enable all areas of our science, technology and operations, namely People, Practices and Partnerships. 
1. People - Talented and driven people will be at the heart of delivering this strategy. And so it will be essential to attract, retain and develop diverse talent across science, technology and operations at a time when the nature of the workplace, and expectations of staff, are changing. With this in mind, our People vision is to lead and invest in our people and culture to make the Met Office a great place to a work. We will align with the Met Office People Strategy - a long-term plan that ensures we deliver on our people vision and keep our commitment to making the Met Office a great place to work.
2. Partnerships - This strategy demands an increase in the range of skills and expertise we shall need to bring to bear, and so working in partnership will become more important than ever before. We shall develop and nurture our existing partnerships, within the weather and climate domain, in universities, national research centres, ECMWF and other national met services. New partnerships and new networks will be needed with whole new ranges of scientists and technologists to rise to the expanding challenges. And finally, our development of partnerships will need to recognise that increasingly research and innovation in weather and climate science and services takes place in both the public and the private sectors
3. Practices - People and partnerships need to be supported through the right working practice, be it the way we organise our working lives, the way we organise and deploy our teams, or the software tools we use. We shall need to embrace new approaches, and ensure staff are trained in best practice in computing, coding, observation and research tools. In this rapidly changing environment, change will be ever present, and we shall need to ensure these changes are managed well.