Where are the windiest parts of the UK?
The windest places in the UK have been recorded at the top of mountains, usually in the west of the country.
The strongest ever winds in the UK have been recorded on mountains, and the strongest ever gust was 150.3 knots (173 mph) recorded at Cairngorm Summit on 20 March 1986. However, some very strong gusts have been recorded at low levels too , these mostly along exposed coastal areas.
These include:
123.4 knots (142 mph) on 13 February 1989 at Fraserburgh in Aberdeenshire.
107.8 knots (124 mph) on 12 January 1974 at Kilkeel in County Down.
102.5 knots (118 mph) on 15 December 1979 at Gwennap Head in Cornwall.
Most of the maximum recorded wind gusts given above have occurred in the winter. Winter is the windiest time of year in the UK. At this time of year, the jet stream tends to track further south allowing more Atlantic storms to affect the UK.
Top 10 windy places
The top 10 windiest counties1 of the UK, based on the 1981-2010 annual average wind speed (in knots) are:
| Location | Average Wind Speed (knots) |
| --- | --- |
| Shetland | 14.6 |
| Orkney | 14.3 |
| Western Isles | 12.6 |
| Argyll and Bute | 12.1 |
| Gwynedd | 11.3 |
| Tweeddale | 11.0 |
| Ross and Cromarty | 10.9 |
| Banffshire | 10.9 |
| Sutherland | 10.8 |
| Isle of Wight | 10.7 |
1 Based on ceremonial (geographic) or preserved counties and lieutenancy areas of the UK
Mean UK wind speeds map
The UK map is coloured in different shades of blue, depending on each location's annual mean wind speed. The darker the shade of blue the windier the location. In general, the windiest parts of the UK are the north and west. This is because the prevailing west to southwesterly winds across the UK lead to northern and western areas being typically more exposed than the south and east.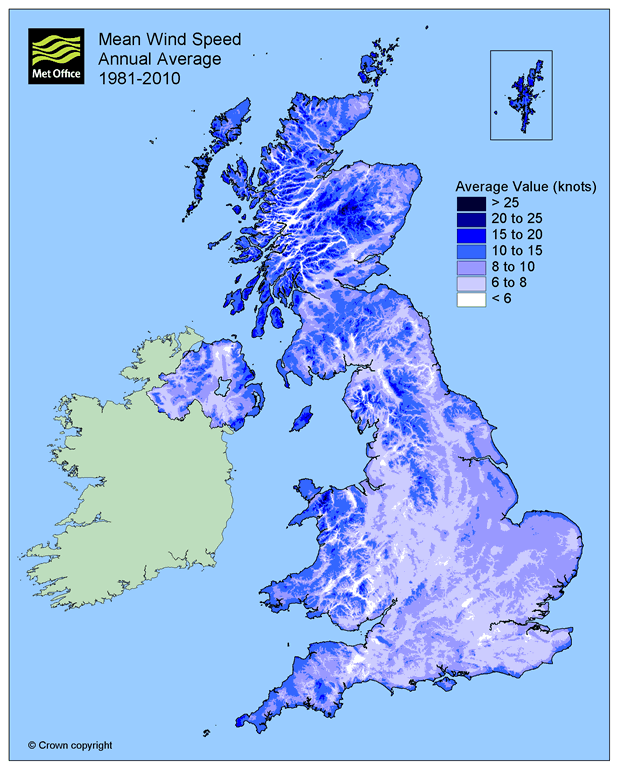 There are also a lot of localised effects with most hills, mountains and coasts being windier than low-lying inland areas. Wind speed increases as you go upwards away from the friction caused by the earth's surface. This also explains the windier coasts as the sea surface produces less friction than the land.
In southwest England, it is possible to pick out the windy Dartmoor National Park which has some of the highest land above sea level in southern England. You can also pick out the windy mountain tops and relatively calm valleys in Wales, northern England and the Scottish Highlands.